UNIFIED PLATFORM OF ELECTRONIC SERVICES FOR EDUCATION
Solution/project name: unified platform of electronic services for education Znaj.by.
Solution/project type: e-services platform accessible via web interface.
Developer:
LLC «EdTech Solution»
Address: office № 7, administration premise 2, 2nd floor, 15B F. Skoriny str., Minsk, Republic of Belarus, P.C. 220114,
тел. +375 17 239-06-00 (08),
info@znaj.by,
www.znaj.by
Scope of application: the education system of the Republic of Belarus.
Effect of implementation: The «Znaj.by» platform is designed to automate and simplify the educational process, reduce the use of paper and raise the level of education in the country.
Solution/project status: put into commercial operation.
Description:
Znaj.by is a platform of electronic services for the education system of Belarus. At the moment 1270 general educational institutions are connected to the platform (over 40% of the total number of schools in the country), more than 100,000 student and parent accounts, over 50,000 teacher accounts have been registered. The number of digital marks exceeds 100 million.
The flagship products of the «Znaj.by» platform are the Electronic Diary and Class Register. These are electronic analogues of paper records designed to simplify and automate the educational process.
Among other products of the «Znaj.by» platform:
Electronic payments,
Online schedule generator,
Website builder,
Electronic textbooks.
The «Znaj.by» site is presented as a web version of the platform, as well as a mobile application.
The «Znaj.by» platform has a Certificate of Conformity and Permission of the Main Information and Analytical Centre of the Ministry of Education of the Republic of Belarus.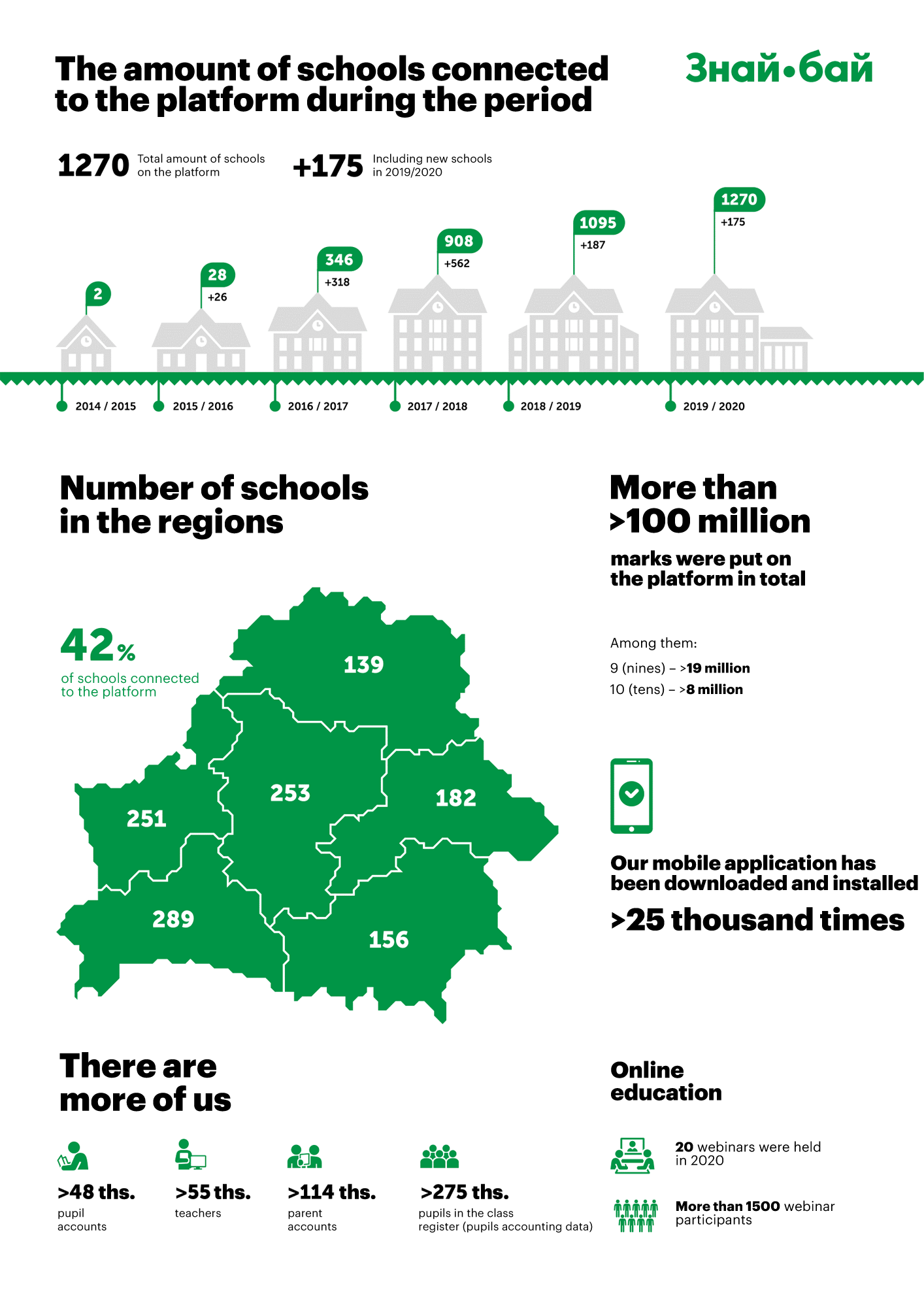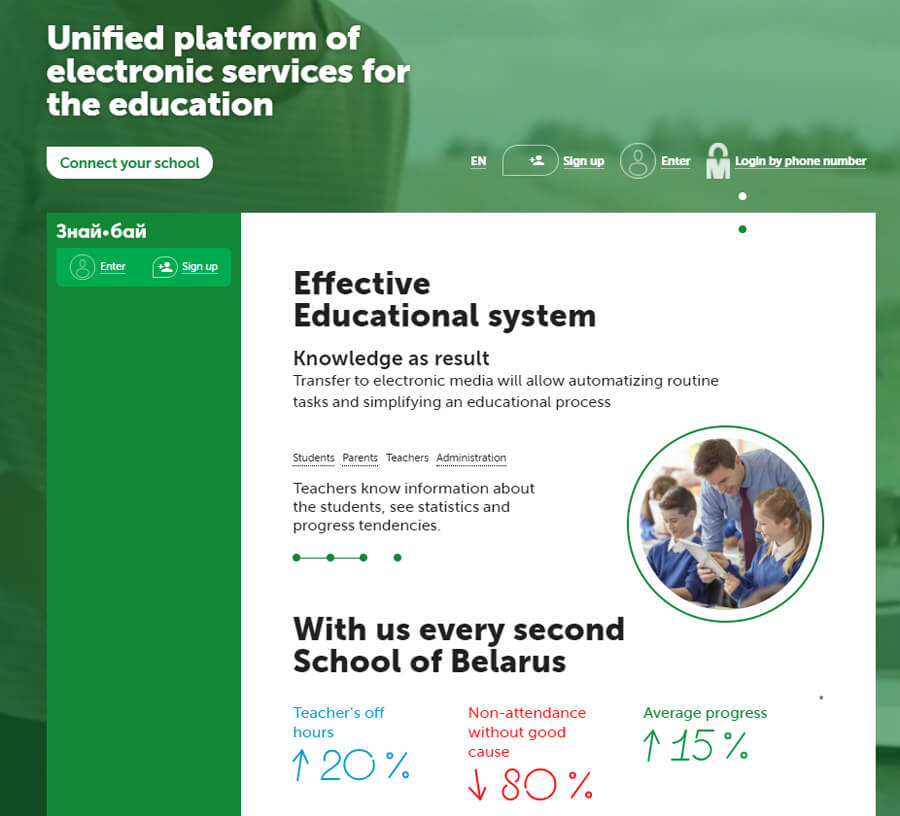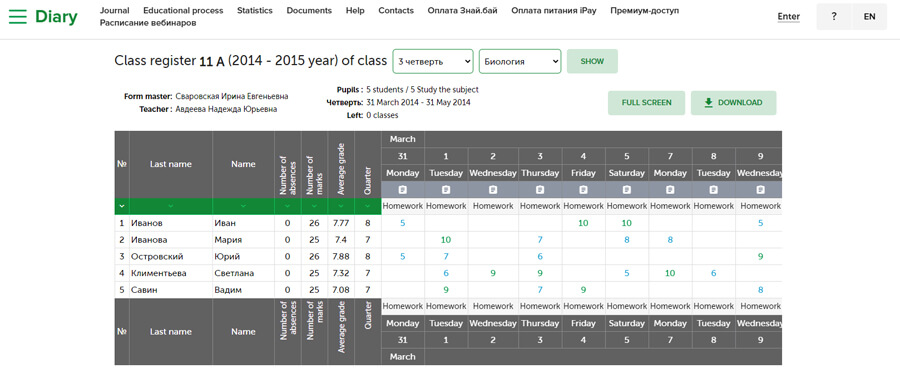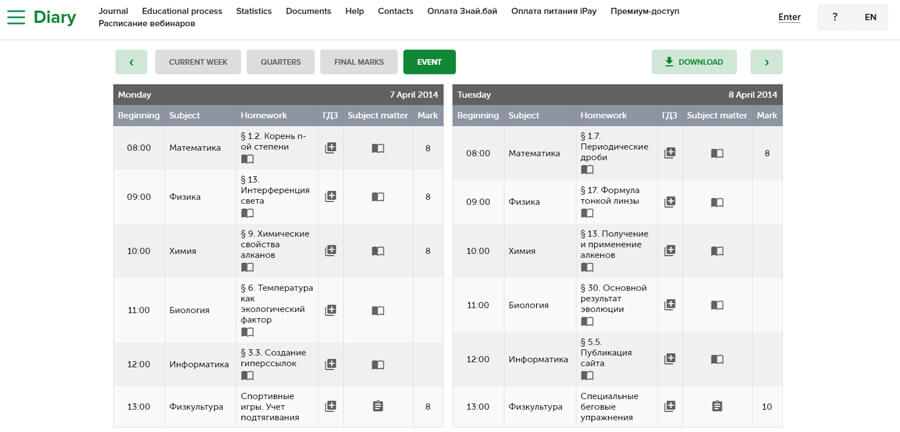 Advantages of implementation:
digitalization of the educational process;
reducing the use of paper records;
enhanced opportunities for parents (notifications about absences, grades by SMS, predicting progress, type of marks, etc.);
tools for creating automatic reports, keeping records, creating a school website, etc.
Submit comments and suggestions